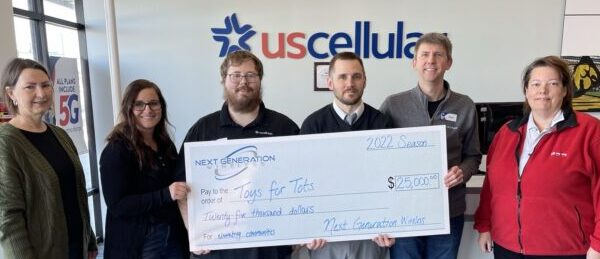 25,000
Fundraised for Toys for Tots in 2022
[ultimate_fancytext fancytext_effect="ticker" strings_tickerspeed="200″ ticker_show_items="1″ ticker_hover_pause="true" fancytext_strings="Special thank you to all of our customers and team for your donations this past year.
We set a goal of $20,000 and were so excited to achieve and exceed that goal. We are so incredibly grateful for your generosity.
We would not have achieved this without you!" strings_font_size="desktop:22px;"]
Our organization is so incredibly proud of our Lead Visionary and Founder, Bill Bradford. With the support of his family, Bill and his wife Lisa, were able to raise over $240,000 in donations for a new warming shelter in Waterloo, Iowa.
Their efforts earned them the 2022 Heroes Among Us Community Service Award. Bill Bradford and his family, truly lead Next Generation Wireless by examples of how to Elevate Our Communities.
We take pride in serving and supporting our communities. We as a team believe that by giving back and being involved, we enrich the lives of those around us!
You will frequently find us participating at community events or volunteering with local non-profits.
Here is a list of organizations and charities our staff is passionate about and proudly serve:
Alzheimer's Association
American Cancer Society
American Diabetes Association
American Heart Association
Aspire Therapeutic Horseback Riding Program
Avon Walk for Breast Cancer
Catholic Worker House
Cedar Bend Humane Society
Cedar Heights Elementary Partners in Education
Cedar Valley Food Bank
Exceptional Persons, Inc.
Habitat for Humanity
Hartman Reserve Halloween Hikes
House of Compassion – Marshalltown
Iowa Heartland Habitat for Humanity
Iowa Women's Foundation
Junior Achievement of Eastern Iowa
Junior League of Waterloo-Cedar Falls, Iowa
Magical Mix Kids
Make-A-Wish
March of Dimes
Meals on Wheels
Muscular Dystrophy Association
Partners in Education
Pink Ribbon Golf Classic
Pink Ribbon Run – Cedar Falls, Iowa
Ronald McDonald House – Iowa City, Iowa
Salvation Army
Sartori Festival of Trees
Toys for Tots
University of Northern Iowa Foundation
Various High School Booster Clubs
Next Generation Wireless recognizes the need for assistance within the communities we serve. We are committed to giving back, however, it is impossible to contribute to every request we receive. Please submit your request at least 2 weeks in advance to ensure proper consideration. Requests are reviewed on or around the 15th of each month.